BUILDINGS
i-beam design, new york based architecture and design, new york design, new york buildings, buildings designer new york, buildings designer ny, buildings designer nyc, ny buildings, nyc buildings, buildings architecture ny, buildings architecture nyc, new york buildings architecture,
BUILDINGS
STELLAE INTERNATIONAL HEADQUARTERS, MELVILLE, NY
TYPOLOGY: Corporate Headquarters, Light Manufacturing and Warehouse
SCOPE: Conversion of existing 150,000 sq. ft. office building plus addition of two new warehouse buildings at 50,000 square feet each.
SIZE: 250,000 sq. ft. total
CLIENT: Stellae International Inc. USA Corporate Headquarters
COMPLETION DATE: March 2019
A Warehouse Design befitting High End Fashion
Two new 50,000 sf pre-engineered warehouses were designed to flank an existing 150,000 sf corporate office building that was converted into a luxury fashion logistics headquarters for Stellae International.
The new warehouses, clad with MBCI metal wall panels and punctured with bands of polycarbonate sheets allow diffused light into the 33' high spaces. The angled and cantilevered front facades provide a canopy above the recessed translucent walls, while framing them with red ribboning panels that further accentuate the entry facades which glow at night creating a dramatic presence on this nearly 13 acre site.
Stellae International Inc., is a luxury goods and fashion logistics company based in Melville, NY. whose clients include major European and American fashion brands. The client's sense of style and enthusiasm towards design and architecture as well as their hands on approach to every aspect of the project created a collaborative approach throughout the process.
The existing central structure was converted to warehouse spaces, production spaces, administrative offices, dining halls and lounge areas. The entire complex, which is located on a 12.85 acre site, is connected via breezeways and courtyards that provide natural light and air to the warehouses and office space. Bold accent colors were incorporated to create different zones within the existing building.
SOUTHERN TELECOM HEADQUARTERS
TYPOLOGY: Commercial Offices
SCOPE: Full Interior Renovation + Penthouse Addition
SIZE: 54,000 sq. ft.
CLIENT: Southern Telecom
To accommodate the doubling of staff and tripling of space needs for Southern Telecom, a leading manufacturer of high quality electronics and consumer products, I-Beam Design was engaged to reconfigure and renovate an industrial building along the Brooklyn waterfront into a pre-eminent corporate headquarters.
Inspired by Southern Telecom's vision for access to high-design, convenience and efficiency for everyone through technology, I-Beam Design has created a clean, elegant working environment based on programmatic sequence, access to natural light and air and the specific needs of the various divisions to optimize joy, collaboration and functionality in the workplace. I-Beam considered the user's experience, the brand's image and the client's budget and schedule constraints in making a project that could be designed and built quickly and efficiently.
MANCHESTER HOUSING PROPOSAL - SALFORD, ENGLAND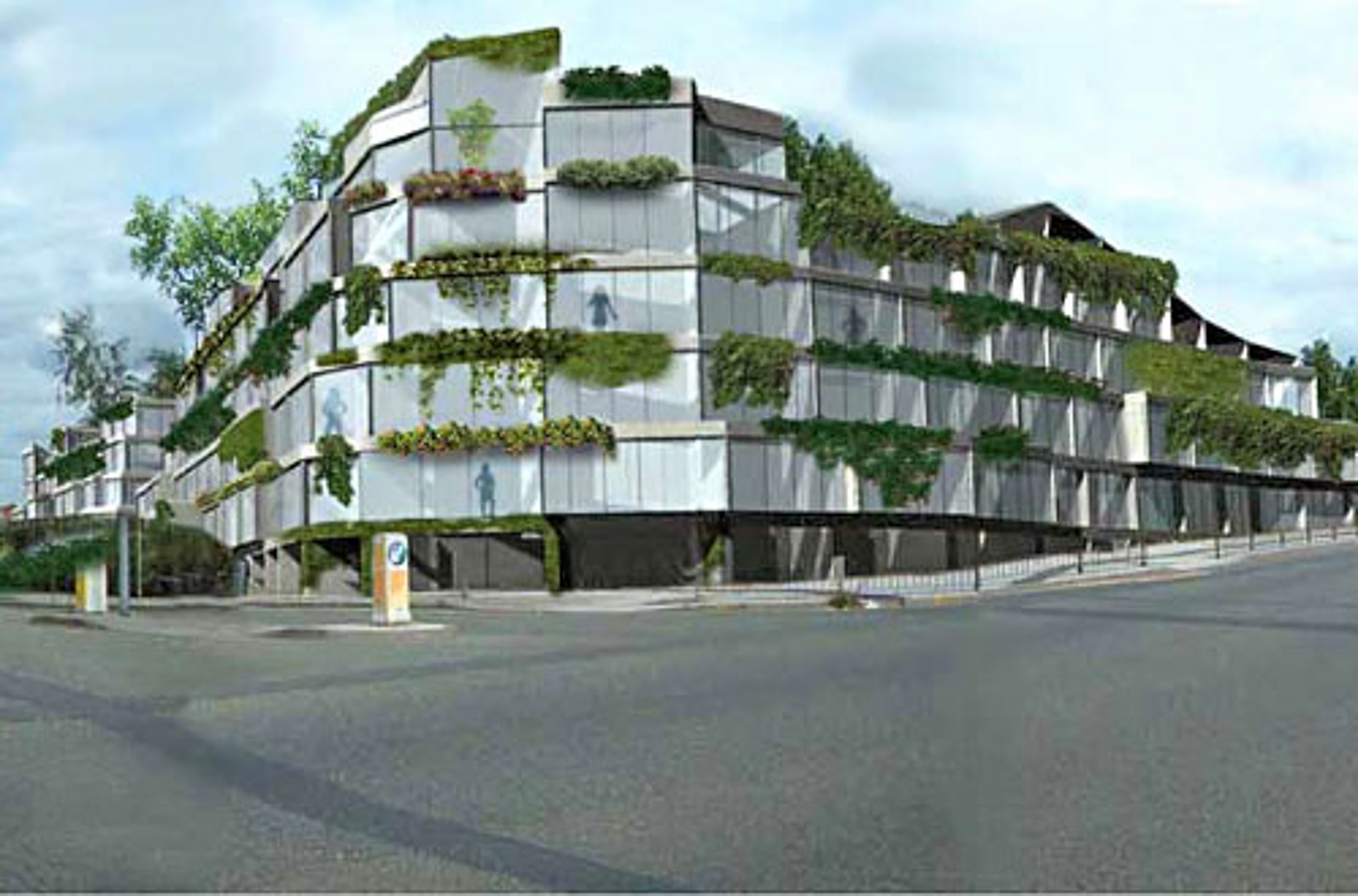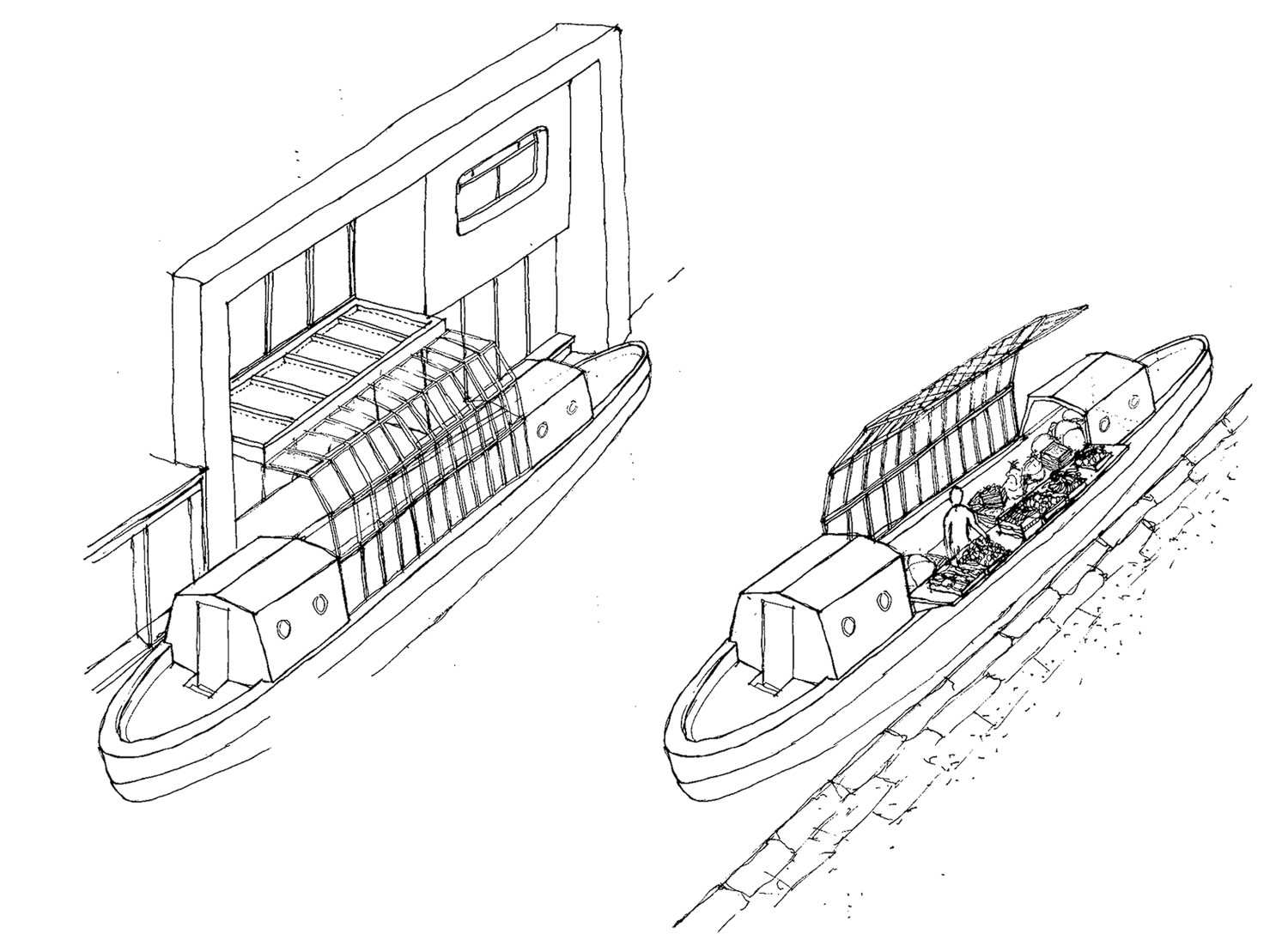 This proposal for housing along the River Irwell affords residents the convenience of city life in a lush green environment along the waterfront.
LIVING ALONG THE CANALS: The canal and river system provides a wonderful opportunity to be revitalized and used for commerce, transportation and recreation; connecting England to itself. Apartments along the new canal come with a barge summer home that plugs into the apartment, extending the living space into a floating sunroom with extra bedroom, kitchen and bath, making this a "two for one" package deal. There are 2 mixed-use residential and commercial buildings on the large site. The big building constitutes the first phase and consists of 90 apartments, 20commercial spaces and two levels of parking (120 spaces). The smaller building to the north is the second phase. It consists of one level of parking (28 spaces) and approximately 30 residential units. The site along the river to the North has another four story building to be used by maritime related tenants.
WATER: POOL, ICE RINK, FLOATING THEATER, MARKET AND BARGEBUS: Water is synonymous with life. This proposal attempts to bring life to the site and Salford in general. Swimming, ice skating, and floating performances are just some of the activities that could take place in the Water Plaza. Boating is the most energy efficient means of transportation and this project capitalizes on its location along the Irwell. The Building on the East side of the river houses a dry dock and boat shop for repair and maintenance of barges and boats. Both the BargeBus and dry dock would provide employment opportunities for local residents. Above the dry dock are rehearsal spaces for the Floating Theater that performs in the Water Plaza on the site when not touring the waterways of England. The canals are an underutilized link between city and countryside that provide the opportunity for a floating farmers market that could visit the site weekly. In addition, we propose to initiate a BargeBus transportation system throughout Manchester, with the management offices located at the Springfield Lane site. Barges are incredibly fuel-efficient, providing a pleasant way to travel that avoids road traffic and reduces pollution.
LANDSCAPE AND ECO-ROOFS: Inspired by the lush green landscape around Manchester, the stepped landscape is a playful interpretation of the traditional English Garden. The ascending grassy knolls provide urban residents with both public gardens and private lawns at their doorstep, even for people living in a 4th floor duplex. Access to green space and water add considerable value to a property. Eco-roofs are gaining popularity due to their sustainability, energy efficiency and agreeable appearance. The thermal mass of soil and grass combined help to reduce heat loss during winter and heat gain during summer, reducing overall fuel consumption and costs. Eco-roofs also block ultra-violet light preventing deterioration of the roof membrane. Grass roofs provide water storage during periods of high rainfall, reducing runoff to the local drainage system, and the rain water that percolates through the roof can be filtered and used. In urban areas, Eco-roofs provide a habitat for wildlife and filter the air through the photosynthesis process.
OUTDOOR CINEMA: The outdoor cinema space at the Southwest corner of the site uses the building as a projection surface for films and advertising that are easily visible to commuters along Trinity Way.
BENETTON HEADQUARTERS, "WOVEN BUILDING" - TEHRAN, IRAN
THE WOVEN BUILDING
English Definition:
Woven: To interweave or combine disparate elements or details into a connected whole while respecting the separate influences of the individual elements. Ex: To weave a fabric; to weave a tale;
to weave a plan
Persian Definition:
Baft: The woven, the fabrication, the construction, Bafteh shahr: The fabric of the city, the weaving of the parts of a city, town planning
The Woven Building knits Benetton's united trademark into the rich fabric of Persian culture and the modern metropolis of Tehran.
In a modern manifestation of the Persian courtyard, the woven façade wraps itself around a dynamic commercial space that strategically reveals the spaces beyond through a veil of geometric brick-work inspired by classic Persian patterns.
For more than three thousand years, the Persian walled garden with its cypress trees and central fountain has been the focus of the Iranian art, architecture, poetry and traditional crafts like carpet-making and weaving.
The façade's brick pattern weaves itself throughout the building to create dividing walls, passageways, openings, seating, interior partitions, display platforms, and stairs connecting the public terraces and functioning as an outdoor theatre.
The Courtyard
The courtyard changes throughout the day as the sun moves through the interlacing openings in the facade. This passive yet dynamic interaction between natural elements and the architecture creates an environment where people want to linger, encouraging shopping and social interaction. Ziggurat-like steps reminiscent of the Hanging Gardens of Babylon allow people to explore the space and shop leisurely. The courtyard concept increases surface area available for display windows as well as creating a social yet personal shopping experience.
Commercial and Multimedia Applications
Large walls along both street axes allow for maximum advertising visibility to provide additional financial resources to the building. Modern communications and projection systems are integrated into the public areas in anticipation of evolving marketing methods and the growing retail market in Tehran. The multilevel interior/exterior landscape serves as an ideal location for fashion shows, film screenings, and other commercial events.
At night, the interlacing openings allow for dramatic lighting to penetrate through the building, distinguishing it as a node within the city.
Eco-sustainability
Stepped and planted platforms increase the building's biomass, grey water collection potential and park space while the courtyard provides refuge from the sun and serves as a natural heat vent.
The reflecting pool and green roof terraces cool the building by evaporation during summer months and retain heat during winter.
Economic Feasibility
Brick masonry construction is one of the oldest, most sustainable and economical building methods in the world. Brick and steel structures are common and economical methods of construction in Iran. The seismic load of the building is absorbed by steel frames and steel columns and the floors are made of steel joists with hollow brick laid between.
Masonry courtyard buildings typically exhibit better energy performance in hot-dry climates thereby reducing both heating and cooling costs.
Incorporating modern commercial architecture with indigenous embellishments, The Woven Building creates a striking monument to Persian culture and Benetton's philosophy that, "communication should not be commissioned from an outside company, but conceived from within its heart." The juxtaposition of modernity and cultural identity in this project creates a space rich in history that embraces the future.
160 WEST 23RD ST. - NEW YORK, NY
The site of this eleven story high residential development project with retail space on the ground floor will be located on East 23rd St, NY. The glass façade incorporates mirrors at varying angles that bring extra light deep into the spaces inside as well as providing an opportunity to view the street outside, from within, connecting the two worlds. This threshold of translucency incorporates glass, mirror and acrylic panels that change color depending on the angle of the sun. The intensity and color of the light inside the apartments vary through out the day creating a unique experience of living in this urban setting.
2068 5TH AVENUE - NEW YORK, NY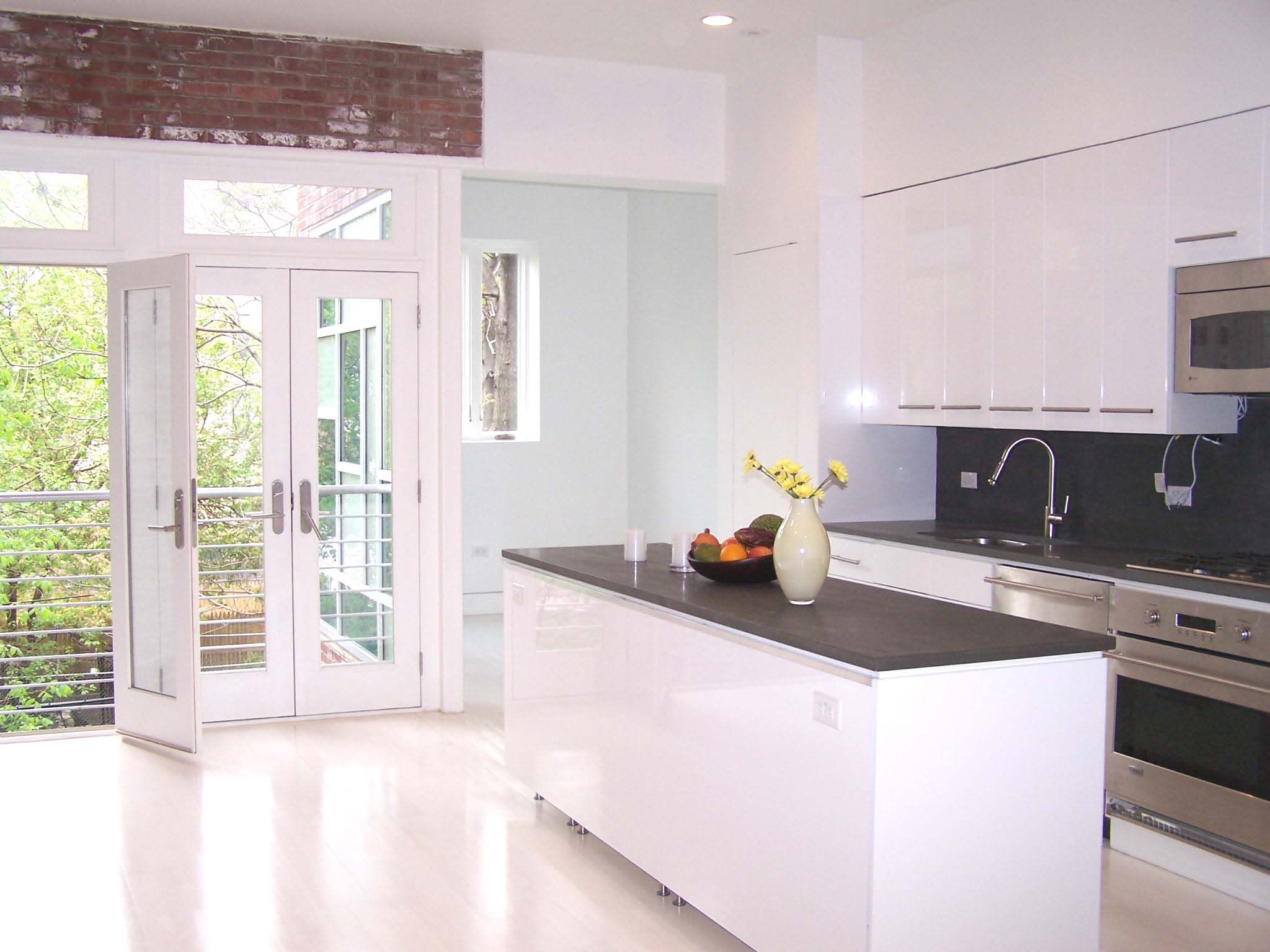 The project is located at 2068, 5th Avenue, in the historic district of Harlem, and was converted from an existing Class B apartment building, to a high end residential building. It is a Brownstown that was gut renovated into three duplex apartments, including a penthouse unit.
Each duplex has two spacious bedrooms with their own bathrooms and ample closets. An extra studio/office off of the main living room is enclosed by a new floor to ceiling glass wall which floods in a soothing blue light into the space.
While maintaining the overall charm of the old construction by exposing the existing brick walls, we have created a sleek modern and pristine environment that is flooded with natural light and enhanced by solid maple wood floors and glossy white kitchen cabinets.
Each unit has at least one functioning fireplace, an interior spiral stair, gray lava stone countertops, GE stainless steel appliances, Kohler bathroom fixtures, translucent Panelite partitions, frameless solid wood doors, Marvin windows and a series of full height double doors to spacious terraces overlooking a lush green backyard. Each unit is equipped with a washer/dryer and a Unico air handler.
There are approximately 6 floors of1200 sf per floor, totaling to 7200sf. With a construction cost of approximately $1.2m, the units each cost about $190/sf and have been estimated to sell for $1000/sf.
Photos by Peter Miller
DAGUILLARD - ORIENT POINT, NY
The existing 1970's, 4000 sf house in Long Island had great 'modernist' bones but years of incongruous additions and renovations pleaded for a more cohesive vision. Incorporating contemporary materials and technologies, I-Beam developed a language that would unify the disparate parts of both the exterior and interior while maintaining its late modernist integrity and cache.
The client's access to thousands of square feet of storage and construction materials, fixtures, furniture and craftspeople through his global network and shipping resources from his logistics company enabled the project to develop over time according to the his ever evolving vision and lifestyle.
With inventive applications for the multitude of materials that the client had collected over the years, through his logistics company and incorporating them into the house, we were able to recycle and create a cohesive proposal that opened the formerly internalized house to greater internal and external views.
The Ipe and Mahogany decking and stained cedar trellis work juxtaposed against the angled white walls and simple metal railings that interconnect all sides of the building are reminiscent of the wooden fishing boats and yachts in Long Island while the aluminum panels and cantilevering canopies provide shade and a more dynamic and contemporary look to the overall composition. A hornbeam tree penetrates through the entry canopy linking and connecting it to the upper floor.
Photos by Kourosh Sotoodeh
MEYER RESIDENCE - NEW YORK, NY